---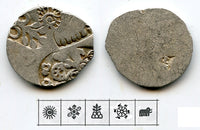 Five punch-mark symbols / Blank. Oval flat silver planchet, 20mmx19mm, 3.54 grams. Gupta/Hardaker ISPC series IV XXXII B 1 (#448 var (different second symbol)).
Very rare type (rated VR (Very Rare) in Gupta Hardaker). The second symbol pictured in G/H for this type is different. It is uncertain if it is an error in the book or if this is a different variety of this rare type. The 4th symbol is incorrectly drawn in the old version of Gupta/Hardaker but was corrected in the last edition from 2014.

The Nanda Empire originated from the kingdom of Magadha in Ancient India during the 5th and 4th centuries BC. At its greatest extent, the Nanda Empire extended from Bengal in the east, Punjab in the west and as far south as the Vindhya Range.