---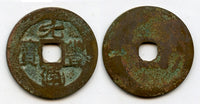 Nguyen Phong Thong Bao ("Universal coin of Nguyen Phong") / Blank. 21mm, 1.36 grams. Cast 1251-1258 during the Nguyen Phong period. Toda 17; Barker 13.1-13.2.
The attributions are based on Toda's attributions. It is possible the coins were cast in the 1300's-1500's by various Vietnamese warlords.
Trần Dụ Tông was the seventh emperor of the Trần dynasty, and reigned over Vietnam from 1341 to 1369. Enthroned by Senior Emperor Minh Tông after the death of his elder brother Hiến Tông, Dụ Tông nominally ruled Dai Viet under the regency of the Senior Emperor until the latter's death in 1357 and held the absolute position in the royal court for twelve more years. The reign of Dụ Tông was seen by historical books as the starting point for the third phase of Trần Dynasty when the peaceful and prosperous state of the country began to fade away and the royal family fell into a long period of chaos before ultimately collapsing.