---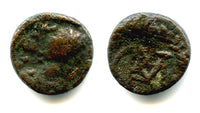 GEIL, diademed, draped, and cuirassed bust right / Gelimer monogram within wreath. 10mm, 0.80 grams. Carthage mint. MEC 1, 28-30; BMC Vandals 4-6.
From an old US collection, with the original collection ticket; ex-CNG
Gelimer (original form possibly Geilamir), King of the Vandals and Alans (530–534), was the last Germanic ruler of the North African Kingdom of the Vandals. He became ruler on 15 June 530 after deposing Hilderic.