---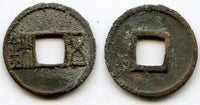 Two Chinese characters Wu Zhu, inside and outside rims / Blank, inside and outside rim. Cast ca.562-566 AD. 26mm, 3.04 grams. Hartill -; Gratzer/Fishman #B8.31.
Rare coin, often mis-attributed to the Northern Zhou dynasty.
In 562, Emperor Wen Di (559-566), Emperor of the Chen Dynasty in the "Northern and Southern Dynasties" period, ordered the casting of Wu Zhus. The Chen Wu Zhus were of full size and carefully cast. The casting probably lasted for a number of years, at least until the death of Wen Di.